Post by gabbox on Jan 12, 2022 21:50:31 GMT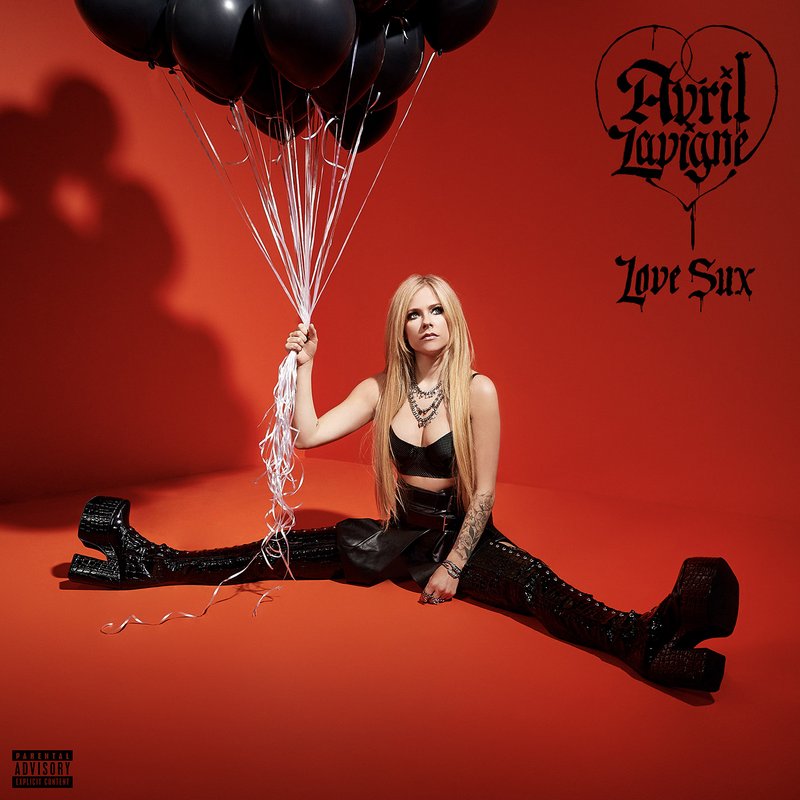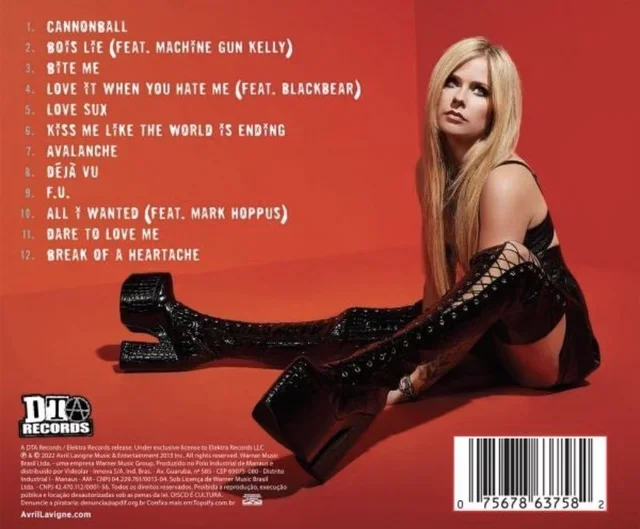 LOVE SUX DELUXE : NOVEMBER 25TH 2022
-------------------------------------------------------------------------------
All the Order Links
:
avrillavigne.lnk.to/lovesux
Love Sux Official USA Store
:
lovesuxstore.avrillavigne.com
Love Sux Official EU Store
:
lovesuxshop.avrillavigne.com/eu/
Amazon Exclusive Slip Case + Poster:
check your national Amazon Website
Release Date
: 25th February 2022
Tracklist:
Cannonball : 02:18
Bois Lie (feat. Machine Gun Kelly) : 02:43
Bite Me : 02:39
Love It When You Hate Me (feat. blackbear): 02:25
Love Sux : 02:48
Kiss Me Like The World Is Ending : 02:50
Avalanche : 03:39
Déjà vu : 03:23
F.U. : 02:47
All I Wanted (feat. Mark Hoppus) : 02:32
Dare to Love Me : 03:34
Break Of A Heartache: 01:51
SINGLES:Bite MeBite Me AcousticLove it When You Hate Me feat blackbearBois Lie feat MGK
Bois Lie feat MGK Acoustic
I'm a Mess feat. Yungblud


-----------------------------------------------------------------------------------------------------
Love Sux Era: Main Events

November
Bite me song Release
Bite Me MV
Performances of Bite Me on Jimmy Fallon, Ellen Show.
December
Bite Me Acoustic MV
Avril attending Variety Hitmakers with Olivia Rodrigo, Lil Nas X, Lana del Rey
Dick Clark New Years Performance
January
Amazon France leaks Album title, tracklist and release date
Love it When You Hate Me song release
Biggest debut ever for her on Spotify in 24h with Love it when You Hate Me (1.076.629 STREAMS)
Avril re-enters Radio Billboard Pop Airplay Chart for the 17th time, and 1st time since 2013
iHeart Radio AlterEgo live show - Surprise Live Show and meeting with Maneskin
February
Album release
Performance of Love it when You Hate Me with bear and Travis Barker on Good Morning America
#1 iTunes WW and #1 i-Tunes in 16 countries
#2 UK #3 Canada #10 USA Billboard (biggest peak since 2013)
Bois Lie #9 most streamed song in the World on Spotify in a day
March
Love it When You Hate Me MV release
Bite Me Gold Certification in Canada
Grammy Awards Attending
Engagement with Modsun Announcement from Paris with Official Photoshoot
When You're Gone MV director's cut leak
April
Live Performance of Complicated with Olivia Rodrigo at Toronto Show
May
Bite Me Tour Canada (First Time live of Cannonball, Bois Lie) - Losing Grip is back live after
Juno Awards Medley Performance from Toronto
June
Let Go Re - Release (different production in the whole record) + Vinyls on Pre-Order
Re-Recording of Breakaway
Breakaway Lyric MV release
"New" recording of Why
Tik Tok of Let Go Cover 20 years later goes viral and becomes her most viewed Tik Tok to date (50 Million views and tons of press about it)
June/July
Hello (Adele Cover) released on Spotify
Tour with MGK across USA
Unexpected Live performance of Ay
Bite Me Single Gold Certification in Brazil
August
Massive Leak of Love Sux and older eras unreleased online
Collaboration with KillStar Clothing Line announcement and first Release
Collaboration with Goldfinger "Here In Your Bedroom" Release
Bois Lie MV
VMAs attendance
Star Ceremony Walk of Fame
September
Avalanche gets #1 iTunes Alternative and #6 iTunes Brazil thanks to Fans campaign
Live Debut for Avalanche which is performed at both shows in Brazil
Avril gets 100k fans attending her show in Rock in Rio making Sunset Stage unbearable and the Main Stage half empty
Avril attends MTV VMAs with Modsun
iHeart Radio Festival in Vegas
October
Avril is back at the studio writing with All Time Low band at FireFlyFestival and also at When We Were Young Festival
Sk8r Boi reaches 400 M streams on Spotify - her 2nd most streamed song of all time
Second part of the Collection with Killstar Release
Avril performs "All the Small Things" live with All Time Low
When We Were Young Festival 3 shows - 1st show cancelled for winds, 3rd show Avril's set cancelled for unknown reason
Avril shows off a new show haircut to promote new single featuring Yungblud
November
"I'm a Mess" feat Yungblud release along with MV
I'm a Mess enters TOP 30 HAC RadioPlay
Japanese Leg of the Love Sux Tour
Postponement of the concert in the Philippines
Love Sux Vinyl Release
Love Sux Deluxe Digital Release with new songs "Mercury in Retrograde" and "Pity Party"
New Leaks online of unreleased songs: Too Fast To Live, Teenage Nightmare and Retrograde Demo
December
Live Performance of I'm a Mess at Late Late show with James Corden with Yungblud and Travis Barker
I'm a Mess reaches #18 HAC (matching Love it When You Hate Me) and #35 POP music
Bilibili New Year's Eve Performance of "Complicated" and "Girlfriend"